Judge Carlucci is Seeking a Full Term
Posted on December 25th, 2022 at 5:02 PM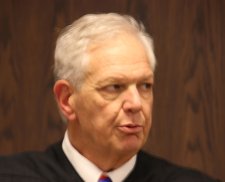 Judge William P. Carlucci has announced that he will be a candidate for the Lycoming County Court of Common Pleas in the May 2023 primary election.
Carlucci is a former member of the Williamsport law firm of Elion, Grieco, Carlucci and Shipman, P.C., practicing for over 30 years in commercial and real estate litigation, contract negotiation and drafting and commercial collections.
Between 1981 and 1984, Judge Carlucci served Lycoming County as an assistant district attorney. He is a 1976 Magna Cum Laude graduate of Lycoming College, and a 1979 graduate of the Temple University School of Law, the news release said. In 2006, Lycoming College honored him as its Alum of the Year.
Judge Carlucci is a member and past president of the Lycoming Law Association. He has received both the LLA 2005 Equal Access to Justice Award (pro bono legal service to the indigent), and the LLA 2013 William E. Nichols Community Service Award for community service outside of the law. He served three separate terms as a member of the Pennsylvania Bar Association's board of governors, and served as a member of the board of directors of the Pennsylvania Bar Institute for continuing legal education. From 2005 to 2006, Carlucci served as the president of the 28,000-member Pennsylvania Bar Association. He served for six years on the Pennsylvania Supreme Court Interest on Lawyers' Trust Accounts Board, including one year as chair.
Carlucci has served as past president of the Kiwanis Club of Loyalsock Township, Kiwanis lieutenant governor, life member and past president of Loyalsock Volunteer Fire Co. No. 1, a former member of the Loyalsock Township Planning Commission, a former member of the Ski Sawmill Ski Patrol, and a former member of the Loyalsock Township School Board.
He has been continuously certified as an emergency medical technician for over 40 years, the news release said. He is a parishioner of Saint Ann Church, where he has been a Lector for over 40 years.
Carlucci is a lifelong member of the Boy Scouts of America, including over 40 years of service as an adult volunteer and over 30 years on the Executive Board of the Susquehanna Council, BSA. He twice served a two-year term as president of the Susquehanna Council. In 1989, the Susquehanna Council presented him with its highest volunteer honor, the Silver Beaver.
Carlucci is married to the former Christine Vanderlin. He and Chris, daughter Lynn Frey, son-in-law Michael Frey, and grandson Lucas Frey, all live in Loyalsock Township. Daughter Laura and son-in-law Ben Williams live in Boynton Beach Florida. Son Ben Carlucci and daughter-in-law Leeanne live near Fayetteville, North Carolina.