Report From the PBA House of Delegates Meeting
Posted on May 23rd, 2022 at 9:27 PM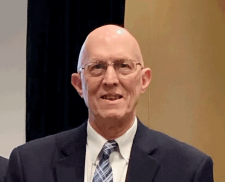 John P. Pietrovito is the Zone Four governor on the Pennsylvania Bar Assocociation Board of Governors representing Columbia, Lycoming, Montour, Northumberland, Snyder, Tioga and Union county lawyers. He recently attended the PBA House of Delegates meeting on May 13, 2022 in Hershey. This is his report of actions taken at the meeting:
The House voted to:
Support changes to the Juvenile Act that included eliminating direct file, raised the minimum age to 16 for transfer to criminal court, and eliminate the requirement to completely pay costs and fines as a condition to end supervision.
Support U.S. House Bill and Senate Bill (Equality Act) to clarify that sexual discrimination includes "sexual orientation" and "gender identity" in all federal statutes that address discrimination.
Require the PBA President to consult with the Minority Bar Committee and the Women in the Profession prior to appointing the Minority and Women Governor to the Board of Governors.
Oppose term limits for elected and sitting judges and justices.
Oppose the removal of retention elections for judges and justices.
Oppose legislation that would allow the legislature to override the Supreme Court in making/changing court rules.
Permit a lawyer who is physically located in PA and licensed in another state to maintain his/her office in PA provided that the lawyer does not solicit business in PA or hold himself/herself out as licensed to practice in PA.
Permit an attorney who elects "retired" or "emeritus" status with the Disciplinary Board to vote and hold office in the PBA.
Recommend that the PBA support and advocate for amendments to Title 68 to provide an effective method to eliminate discriminatory restrictive covenants in deeds, etc.
Elected the following PBA Officers: Vice President - Nancy Conrad; Secretary - Jacqueline Martinez; Treasurer - James Antoniono.