50 Year Member: Norm Lubin
Posted on January 12th, 2023 at 7:48 PM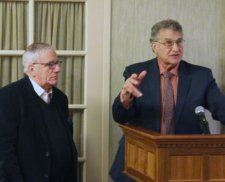 It is an extraordinary circumstance when a member of the Lycoming Law Association reaches the 50-year milestone. At the 2023 annual banquet, one member of the bar was recognized for his 50 years of membership of the Association.
Norman Lubin was fêted by his law school roommate and longtime friend, Lee Roberts of Lock Haven. Both were raised in Philadelphia, and both ended up at Pitt in 1968.
After graduation the two of them took a grand tour of the United States, traveling from Philadelphia to Chicago to St, Louis, San Francisco, Los Angeles to New Orleans back to Pennsylvania. They slept in tents and cooked over a fire.
Norm ended up in Williamsport, clerking for Judge Thomas Wood. Lee was working in Philadelphia, and not pleased with the lifestyle. Norm convinced Lee to apply for a clerkship with Judge Abraham Lipez of Clinton County. Lee moved to Lock Haven and never left.
After being introduced, Norm Lubin commented that his plan when moving to Williamsport was to stay for 2 years and then leave. But of course he never left.
Norm now practices with the firm of Casale, Bonner, Hillman & Southard, P.C. He served as president of the Lycoming Law Association in 2005.
Additional Photos