Arbitration Fees Awarded to Legal Services by the LLA Foundation
Posted on January 25th, 2023 at 9:07 PM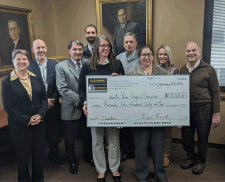 Every year, the Lycoming Law Association Foundation receives funds from Lycoming County attorneys who have chosen to donate their arbitration fees to the Foundation. Rather than accept fees for performing work as arbitrators, many county attorneys donate their earnings to the Foundation. The Foundation, under its spending policy, grants 80% of those fees to North Penn Legal Services.
On January 25, 2023, the LLA Foundation donated 2022 arbitration fees amounting to $7,160 to North Penn Legal Services.
Directors of the Foundation as well as representatives of the bar and Legal Services participated in the ceremony where the funds were awarded. Photo from left: Robin Read, Matt Parker, Paul Roman, Sean Gingrich, Jen Heverly, Judge William Arbuckle, Michele Frey, Liz White and Fred Holland.