Corey Mowrey and John Person Recognized for Pro Bono Work
Posted on January 11th, 2023 at 10:03 PM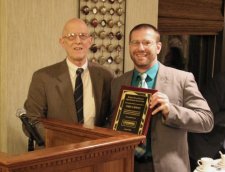 COVID 19's impact has been widespread. It affected even our ability to provide public recognition to those of us whose stand-out conduct warrants our attention.
For many years, the Lycoming Law Association has acknowledged one of its members for distinguished pro bono service to those who are unable to afford legal services, at its annual meeting. That recognition did not occur in 2021. To rectify this blemish, two worthy recipients of the Honorable Thomas Wood. Jr., Equal Access to Justice Award were honored at the 2023 banquet.
In presenting the awards to John Person (2021) and Corey Mowrey (2022), Pro Bono Committee Chair John Pietrovito made the following comments:
John Person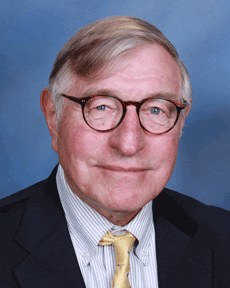 After a long career in private practice, he worked for North Penn Legal Services from 2007 to 2016. After retiring from North Penn, he continued to go to the office, one day each week, to advise and represent clients (unless he's away, visiting his children and grandchildren in South Carolina). Since retiring, he has accepted 122 pro bono cases.
When the North Penn office was understaffed in 2021, he accepted 28 cases. He primarily represents clients in debt collection lawsuits, to protect their income and assets from creditors, and in eviction cases, where he often finds creative ways to settle the case and preserve the client's housing. When in the office, he continues to interact with and support the new attorneys at North Penn.
He also maintains a fund for clients of North Penn who just need a few extra dollars to fully resolve an eviction or a utility termination.
This recognition is probably overdue, but he has always convinced us that we should choose someone else - such an attorney who is working full time and still donates their time. We decided that this award is about honoring his service, even if he's reluctant to be here or accept.
The recipient of the 2021 Thomas Wood Award is John Person.
Corey Mowrey
The 2022 recipient of the Thomas Wood Award somehow maintains a very active practice as a civil litigator and a second career as a public servant.
In addition to the pro bono service for which we are honoring him today, he serves on the Lycoming County Domestic Violence Fatality Review Team and on the Board of Lycoming County Big Brothers/Big Sisters. He served on the Planning Committee for Wills for Heroes. He is the President of the Charles F. Greevy, Jr., Law Society and President of the Board of Susquehanna Valley Court Appointed Special Advocates (CASA). He also volunteers his time as a Wrestling Coach and Baseball Coach.
Throughout his legal career he has performed and promoted public service. Since 2016, he has accepted 33 pro bono cases from North Penn Legal Services. In 2022 alone, he heeded the call from the Court and North Penn for more pro bono volunteers in Protection From Abuse cases, and he accepted 9 cases. The Pro Bono Coordinator at North Penn tells us that PFA cases involving child custody or child abuse are the most difficult for pro bono attorneys and the hardest cases to find volunteers to handle. He offers to take these cases, which means he often has lengthy, contested hearings. He accepts almost any challenge with a positive attitude and an interest in helping others.
He is currently a partner at Rieders, Travis, Dohrman, Mowrey, Humphrey & Waters and, until a few hours ago, he was the President of the Lycoming Law Association.
The Lycoming Law Association is very happy to present the 2022 Thomas Wood Award to Corey Mowrey!
Both Person and Mowrey were also presented with Pennsylvania Bar Association Pro Bono awards by David K. Trevaskis, Pro Bono Coordinator.
Additional Photos