In Memoriam: Garth Everett (1954-2023)
Posted on January 30th, 2023 at 7:52 AM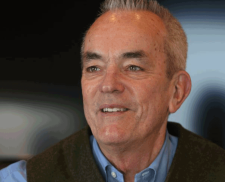 Garth Everett, former Lycoming Law Association member and former member of the Pennsylvania General Assembly, died on January 28, 2023.
Obituary
Garth D. Everett, 69, of Pennsdale, died Saturday, January 28, 2023, at The Gatehouse in Williamsport, Pennsylvania. Garth valiantly fought cancer for 18 years and succumbed rather quickly over the past month.

Born January 28, 1954, in Williamsport, he was a son of the late David and Maxine Schrader Everett. He and his wife, the former Susan S. Shultz, celebrate 46 years of marriage on November 27, 2022.

Garth was born and raised in Montoursville, Pennsylvania. He graduated from Montoursville Area High School in 1972 where he met his best friend and future wife, Sue Shultz. Garth received an Air Force ROTC scholarship to attend Colby College in Maine. After two years, the ROTC unit was shut down at which time he transferred to Penn State University. Thanksgiving weekend of 1976, Garth graduated from Penn State, was commissioned into the United States Air Force, and married his high school sweetheart, Sue.

Garth and Sue left Pennsylvania to head to their first duty station in Biloxi, Mississippi. Their first daughter, Megan, was born in 1978 at Tinker AFB, Oklahoma and their second daughter, Corinne, was born in 1981 at Lubbock AFB, Texas. Garth became a KC-135 navigator and served in several other roles as he advanced in his career. From Davis, California to Macon, Georgia, to Plattsburgh, New York, to Omaha, Nebraska and everywhere in between, the Everett family loved their time in the military where friends truly became family.

Throughout his military career, his heart always remained in north central Pennsylvania where the family would return each summer and during holidays to spend time with his beloved parents and out at his family cabin on the Loyalsock Creek. Upon retirement from the Air Force as a Lieutenant Colonel, Garth returned to Pennsylvania where he began law school at Dickinson College in Carlisle. Garth was Fondly referred to as "the Colonel" by his classmates and was voted to speak at the graduation in 2000 where he sat on stage with former Governor Tom Ridge and Joe Paterno.

After graduation, Garth and Sue returned to the Williamsport area and chose to reside in Muncy. Garth practiced civil and municipal law and served as solicitor for several townships, boroughs, school districts and municipal authorities. He became an avid runner while in the Air Force and later joined the local running club Oregon East with many long-time friends and meeting many more who became lifelong friends.

In 2006, Garth ran for state representative for the 84th district after his high school classmate decided not to run for re-election. Garth served in the PA State House of Representatives from 2007 to 2020. He thoroughly loved his time as a state representative and representing the people of the 84th district. Upon his retirement, Garth was able to spend even more time with his family and friends, his grandchildren, out at the cabin, and traveling. Garth was a super active "Pap" taking his grandson to guitar and voice lessons and coaching his granddaughter's soccer teams. He and Sue traveled internationally often and loved traveling domestically in their sprinter van.

Surviving, in addition to his wife, are two daughters, Corinne (Matthew) McLaughlin of Muncy, and Megan Everett of Chicago, Illinois.; two grandchildren, Riley McLaughlin and Nolan McLaughlin; a brother, Christopher (Deborah) Everett of Canton, Ga.; and two nieces, Jennifer Everett and Sarah Everett.