Judge Arbuckle Receives Nichols Community Service Award
Posted on January 11th, 2023 at 9:16 PM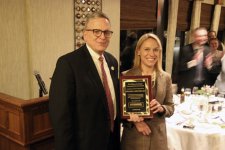 In January 2012, the Association presented its first ever Community Service Award in recognition of outstanding commitment to community service beyond the practice of law by a member of the Lycoming Law Association. The newly minted award was presented to William E. Nichols, and in recognition of the breadth of Nichols' sustained commitment to volunteer community service, the Association named the award the "William E. Nichols Community Service Award" in his honor, as "a fine example to us all."
At the 2023 Lycoming Law Association annual banquet, the award was presented to a member who has followed in the footsteps of Bill Nichols in providing outstanding community service and for fostering the positive role of attorneys in our community beyond the practice of law.
Federal Magistrate Judge William Arbuckle was recognized by Lycoming Law Association President Liz White. In introducing the award, President White pointed out that Judge Arbuckle routinely judges rounds of the PBA mock trial competition (for high school students) and American mock trial. He is involved in the Law Day Committee – judging essays and submissions for the Association and 3rd Circuit student contests. He supports the Court Appointed Special Advocate program. Furthermore, he supports Project Linus – providing blankets to children.
Judge Arbuckle presides over moot court teams. He is a guest lecturer, including at Lycoming College. He is a founding member and on the Board of Pennsylvania's Lawyers Concerned for Lawyers. He is on the Board of Directors of the M. Patricia Carroll Fund which supports the mission of Lawyer Lawyers concerned for Lawyers.
The judge has served on the board of the Lycoming Law Association Foundation, until recently as its president. He was instrumental in reinvigorating the foundation board and increasing its membership.
Because of his community service, Judge Arbuckle was presented with the William E. Nichols Public Service Award at the 2023 annual banquet.
Additional Photos