Lycoming County Judicial Election to be Decided in November
Posted on May 17th, 2023 at 8:03 AM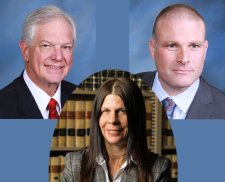 Lycoming County residents went to the polls on May 16 to nominate candidates for two open Court of Common Pleas seats, among other positions. Three members of the Lycoming Law Association were on the ballot - current judge William Carlucci, District Attorney Ryan Gardner and Andrea Pulizzi. The candidates cross-filed.
Preliminary results show Carlucci winning both the Republican and Democrat nominations with 8037 and 2308 votes respectively. Gardner won the Republican nomination for the second seat with 9339 votes and Pulizzi won the Democrat nomination for the second seat with 2330 votes. The voters will have the final word on the judicial seats in November.
In other elections involving LLA members, magistrate district judge position 29-3-03 was contested between LLA members Kirsten Gardner and Tim Reitz, and former member Randy Sees. Gardner appears to have won both the Democrat and Republican nominations.
Former LLA member Tom Marino ran unopposed for the district attorney position and was nominated on the Republican ticket. Member Mike Zicolello was nominated by both parties for one of five open seats on the Loyalsock School Board.