My experience at the YLD Summer Summit . . .
Posted on August 24th, 2023 at 9:17 PM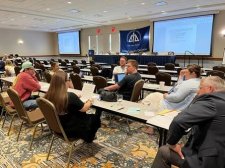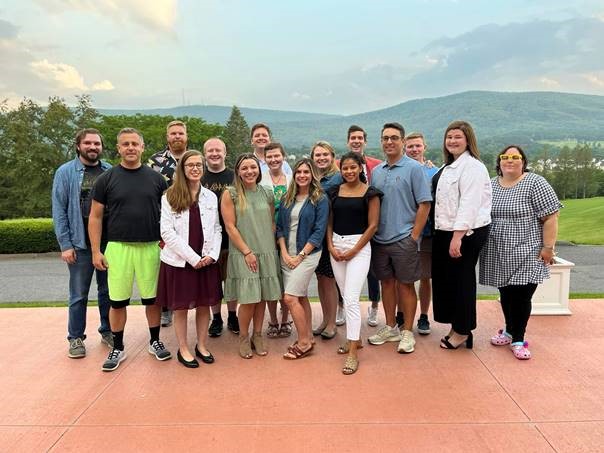 Steven Hartley, of the McCormick Law Firm, attended the 2023 YLD Summer Summit as the guest of the Lycoming Law Association. This is his report:
My experience at the YLD Summer Summit was excellent, and I enjoyed connected with my fellow young lawyers as well as the leadership team at the PBA.
Although the Summit does not always have a theme, this year's Summit was 90's themed. The Summit began with a cocktail hour Wednesday night featuring music from the 90's, which lead directly into dinner and some introductory words from YLD Chair Jennifer Galloway and PBA President Michael McDonald. I had the pleasure of sitting next to President McDonald for dinner, and he provided our group with unique insight into what the PBA has to offer us now as young lawyers and into the future of our careers. President McDonald also took time to ask us how the PBA can better reach young lawyers and meet their needs as they learn the practice of law. The evening ended with some intense 90's themed trivia, which eventually broke down into a lively back and forth about where NBA legend Michael Jordan played minor league baseball after his first "retirement" in 1993.
The following morning, I had the pleasure of earing breakfast with President McDonald again. Then, we got started on the many enlightening presentations the YLD lined up for us. First was a presentation on diversity, equity, and inclusion using real stories from young lawyers in Pennsylvania. As part of the presentation, they prepared computer animated video clips complete with voice actors to demonstrate each scenario. Then, we were tasked with answering multiple choice questions about how we would have handled the situation. The stats from each quiz question were then shown on screen and the presenters opened up for discussion on why we each picked our answer. The scenarios ranged from a young lawyer being snubbed for partnership at their firm all the way to harassing comments from a local judge. This presentation was a thoughtful way of allowing each of us to explore how to handle these difficult situations while considering our ethical obligations, our responsibilities to our clients, and managing professional expectations.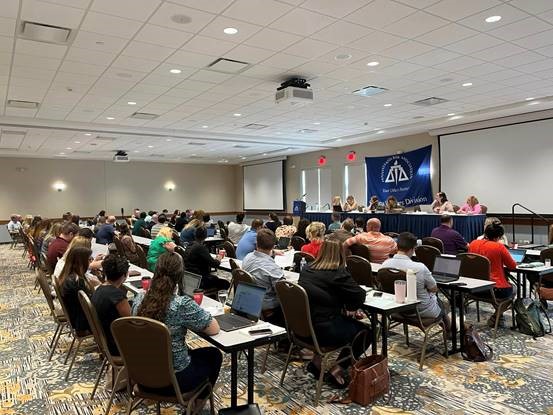 Next, I attended a presentation by Lawyers Concerned for Lawyers (LCL). The presenter, Brian Quinn, was incredible. His personal testimony of taking over a firm right out of law school due to the passing of his mentor, falling into addiction, and losing both his career and his loved ones due to his inability to care for himself struck us all deeply. Luckily, Brian found LCL and they were able to help him get back on his feet. He became a significant success story for what LCL can do to help lawyers who are struggling with the stress and pressure this job often brings with it. Brian went from rock bottom to showing all of us how we can avoid it by finding the support we need sooner than he did. After dinner that night, we got to enjoy live music from a 90's cover band.
On Friday morning, I attended a presentation on the use of technology in the practice of law. While I (even as a young lawyer) have found that seeing things on paper is often the way to go for me, I was still intrigued with what the presenters discussed regarding notes shared over the cloud, secure storage of client information, and the advantages of different virtual meeting software. There was a brief discussion on AI technology, with the obvious caveat that no one should be using AI to supplant legal research and writing.
Finally, I attended a presentation regarding alternative dispute resolution. This was one of my favorite presentations of the Summit as it required us to get heavily involved. We were given a scenario where the governor of our state had removed the president of a local university and replaced them with a political ally who had begun to enact policy changes in line with the political aims of the governor. The room was divided into groups of five, and each group member was assigned a role to play. Each role had their own interests, motivations, and dispositions to the other roles. We were then tasked with resolving several different disputes within the scenario, including employment issues, curriculum issues, and issues with student groups at the university. The presenters broke out and helped guide each group through the scenario. Then, we each presented how our group resolved the various issues. No two groups were exactly alike, which I think showed how important mediation techniques can be as there is no one way to resolve a dispute.
In summary, the YLD Summer Summit was an experience I won't soon forget. Beyond the excellent presentations and useful information, I made excellent connections and learned a lot about the people who make up the leadership at the PBA. I am grateful for this opportunity and look forward to hearing about what next year's YLD Summer Summit offers to its attendees.