PBA Honors Jeffrey A. Marshall With Excellence in Elder Law Award
Posted on August 7th, 2023 at 8:33 AM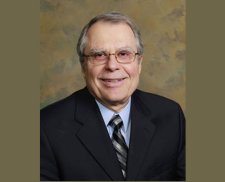 HARRISBURG, Pa. (July 20, 2023) — The Pennsylvania Bar Association Elder Law Section presented Jeffrey A. Marshall, retired founder and of counsel for Marshall, Parker & Weber LLC in Williamsport, with its newly named award in his honor, the Jeffrey A. Marshall Excellence in Elder Law Award. The presentation occurred during the Elder Law Institute, cosponsored by the PBA Elder Law Section, July 25-26, in Harrisburg.
The Jeffrey A. Marshall Excellence in Elder Law Award, originally named the Excellence in Elder Law Award in 2005, recognizes an individual who has made superior professional efforts in the field of elder law, significant contributions to the elder law bar and noteworthy service to the elderly. The PBA Board of Governors voted to rename the award in June 2023 in recognition of Marshall, who was instrumental in establishing and growing the section within the PBA and who was a past Excellence in Elder Law Award recipient.
Retiring after more than 40 years from the firm he founded, Marshall practiced elder law, which includes estate administration and estate, long-term care and special needs planning. The firm has offices in Jersey Shore, Plains and Williamsport.
An accomplished author and speaker, Marshall wrote the first two editions of Elder Law in Pennsylvania, published by the Pennsylvania Bar Institute Press, for which he received an Award of Outstanding Achievement in the publications category from the Association for Continuing Legal Education in 2006. He has contributed quotes about elder law to numerous publications, including the Chicago Tribune, The Kiplinger Retirement Report, The Wall Street Journal and Time magazine.
Within the PBA, Marshall served two terms as chair of the PBA Elder Law Committee, which transitioned into the Elder Law Section. In addition to being a member of the Elder Law Section, he is a member of the Disability Services, Health Care Law and Senior Lawyers committees.
One of the Elder Law Section officers said that Marshall "epitomized all of the knowledge and character traits an attorney should have who receives this award," and that "the mark he has left is indelible and we are eternally grateful."
In addition to his two PBA Excellence in Elder Law Awards, Marshall was named the outstanding state chapter member for Pennsylvania by the National Academy of Elder Law Attorneys in 2009. He was also named Lawyer of the Year in Elder Law for the Harrisburg metropolitan area by Best Lawyers.
Marshall was the founder and a past president of the Pennsylvania Association of Elder Law Attorneys, a nonprofit association that provides education, information and networking for lawyers, bar organizations and others who offer legal assistance to older clients and their families.
Marshall received his bachelor's degree from Wesleyan University, Middletown, Connecticut. After serving in the U.S. Army, he earned his Juris Doctor from Stanford University Law School. He was certified as an elder law attorney by the National Elder Law Foundation.