Supreme Court Reappoints McCoy
Posted on August 4th, 2018 at 8:50 AM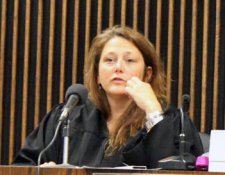 On August 1, 2018, the Pennsylvania Supreme Court issued an order reappointing the Honorable Joy Reynolds McCoy to the Juvenile Court Procedural Rules Committee. Judge McCoy was first appointed to the Committee September 1, 2015, and has served continuously since then.
Judge McCoy joins 14 judge and lawyer members of the Committee, which advises the Supreme Court on matters relating to the procedural rules governing actions for juvenile delinquency and dependency courts. The primary goal of the committee is to simplify juvenile delinquency and dependency law practice by recommending new rules or amendments to existing procedural rules. The committee reviews legislation and monitors court decisions to ensure that the rules conform to developments in the law as well as to the realities of juvenile law practice. The committee strives to promote statewide uniformity of practice, to streamline procedures and to encourage the prompt disposition of juvenile matters.
The appointment commences September 1, 2018, is for a term of 3 years.