Leadership Lycoming 2019 Graduates Include LLA Members Planas and Yount
Posted on July 4th, 2019 at 11:06 AM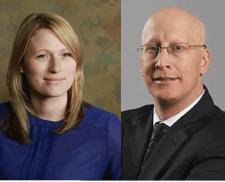 The 2019 graduating class of Leadership Lycoming was recognized at an event held June 13, at the Williamsport Country Club. The class included two members of the Lycoming Law Association, Rachel Planas of the McCormick Law Firm and Daryl Yount of McNerney, Page, Vanderlin & Hall.
Established in 1987, Leadership Lycoming cultivates, develops, and nurtures the potential leaders within our community. The program identifies, educates, and motivates the area's most promising leaders and prepares them for service to our community in a variety of important roles.
Congratulations to Attorneys Planas and Yount for their successful completion of the program.