LLA Presents Funds to Canine Companions for Independence
Posted on September 1st, 2020 at 10:27 PM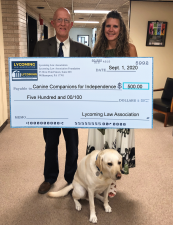 Attorney John Pietrovito presented a five hundred dollar donation from the Lycoming Law Association (LLA) to Canine Companions for Independence (CCI), the organization that donated Lycoming County Courthouse Facility Canine Jedi to our community.
Jedi, seen here with his handler, Jerri Dawes Rook, accepted the donation on behalf of CCI. Facility dogs, like Jedi, are specially trained to be a calming presence for victims of crime when they come to court to testify. In Lycoming County, Jedi is primarily utilized to help children feel more comfortable inside the courtroom.
The LLA made this donation to recognize its members who do their "fair share" of pro bono work. The funds will be used to further the charitable work done at CCI; an organization that places approximately three hundred and fifty service dogs annually.
Congratulations to Jerri for a job well done, and to this year's grant recipient, Canine Companions for Independence.