Lycoming Law Association Launches New Website
Posted on July 16th, 2018 at 11:41 PM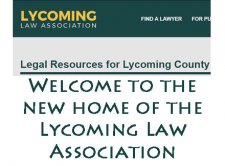 The Lycoming Law Association is almost 150 years old. Its Website is just over 18 years old. Yet it is that 18 years that has seen the most change in the Association and the way that it conducts its business.
No one can argue that Web technology has not changed the way that attorneys do business. When the Website was launched in 2000, simple typed pages sufficed to serve Association members and the consuming public. Over the years the site became ever more comprehensive with opinions, rules, news, and the comprehensive attorney directory.
To keep up with the current technology, the site was updated and reconfigured no fewer than 3 times, each time adding new features and allowing for added functionality. But technology moved speeder than the skills of our Webmaster, leaving the site with mediocre functionality on mobile devices and potential security issues.
In 2018 the Association partnered with Epic Web Studio to provide for a complete revision and update of the Lycolaw.org® website. The site is responsive - it resizes depending on the size of the device on which it opens. The site has a security certificate (hence the https" that now appears before the "www"). The site now complies with website "best practices." Online registration and payment are now available.
It will take some getting used to (as the Pennsylvania Dutchman says) but you will find the site will serve you well.
You will notice considerably less material in the new site. The Association frugally determined that the archival and historical materials can be added back over time, saving the professional costs.
We are still working through bugs and optimizing functionality, and that is likely to continue into the fall, so bear with us. Report bugs to your Webmaster or Executive Director and we will work to fix them. As always, we value our consumers' opinions.