LLA Serves First Responders with Wills for Heroes Event
Posted on April 11th, 2018 at 3:36 PM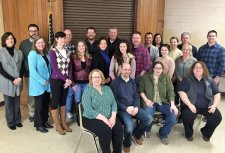 The popular Wills for Heroes public service event returned to Lycoming County on Saturday, April 7, 2018. At that time multiple members of the Lycoming Law Association, and others joined together to provide free estate planning documents to first responders from local agencies. Participation in the event, as in previous years, was quite high. The volunteers provided 49 estate plans during the event.
Thanks to our volunteer attorneys: Kristine Waltz (coordinator), Kathleen Raker, Jessica Harlow, Christian Frey, Beau Hoffman, Maureen LaNoce, John Pietrovito, Angela Lovecchio, Chris Kenyon, Kurt Schmitt, Jon DeWald, John Smay, Nicole Ippolito, Jessica Feese, Taylor Mullholland, Tiffany Kase, Jeff Yates, Aaron Biichle, Darren Pfeil, Matt Zeigler and Tammy Weber.
Thanks also to our sponsors: Lycoming Law Association, Wegman's, Lycoming Law Association Foundation, Scott A. Williams, Pennsylvania Bar Association, Mitchell Gallagher, PC, McNerney, Page, Vanderlin & Hall, McCormick Law Firm, Herbert Rieders Foundation, Dinges, Dinges & Waltz, Recovery of Objects Judaica, and Old Lyco. Twp. Fire Co.
Additional Photos