Pulizzi & Gardner Announce Run for Common Pleas Judge
Posted on January 24th, 2023 at 10:10 PM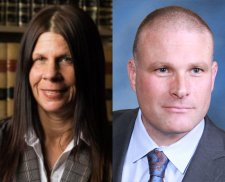 Lycoming Law Association members Andrea Pulizzi and Ryan Garder have separately announced that they will be candidates in the 2023 election to fill two open Lycoming County Court of Common Pleas judgeships.
A press release issued by Pulizzi reads as follows:
Lifelong Lycoming County resident Andrea Pulizzi has announced her run for Judge in the Lycoming County Court of Common Pleas for the May 2023 primary election. There are two vacancies in the County's Court of Common Pleas.
Born in Williamsport to Robert Pulizzi and Christine Pulizzi, A. Pulizzi attended Bishop Neuman High School before graduating from Williamsport Area High School.
Pulizzi earned a Bachelor of Arts in Psychology, cum laude, from Lycoming College and went on to earn her law degree from Widener University. After law school, she decided to remain in Lycoming County with her oldest son.
She has three children: Alexander, Sebastian and Isabella; and three grandchildren: Giovanni, Zander and Virgilia.
Pulizzi grew up in the Williamsport area and ultimately settled in Loyalsock Township, where she resides with her children and their father. Her strong sense of family has kept her in the area. Over the years she has volunteered her time coaching AYSO and volunteering with various sport clubs, including the Loyalsock Area High School Football Huddle Club.
Pulizzi has practiced in various areas of the law, including estate planning, civil litigation, criminal defense and domestics. She is currently managing partner at Carpenter Harris & Flayhart, where she focuses primarily in criminal defense and domestics.
Her legal practice has taken her before several judicial bodies, including the Middle District of Pennsylvania, State Superior Court, Court of Common Pleas throughout Pennsylvania and Unemployment Compensation Referees.
With her belief that everyone is entitled to legal representation, she has provided pro bono and reduced rate representation to indigent clients. Pulizzi believes that her 19 years of experience and knowledge of various areas of the law would aid her in her ability to fill the position of judge.
Gardner also issued a press release:
District Attorney Ryan C. Gardner has announced his candidacy for Judge with the intent to fill one of two openings in the Court of Common Pleas.
"It has been an honor to serve Lycoming County as District Attorney. My experiences as the District Attorney and previously as an attorney in private practice as well as a small business owner, have uniquely prepared me to serve as a Judge on the Court of Common Pleas," said Gardner.
Two positions are vacant since the retirement of Judges Joy Reynolds McCoy and Marc F. Lovecchio.
"I want to thank our retired judges, Joy Reynolds McCoy and Marc F. Lovecchio, for their outstanding service to our community. I hope to earn the support of the voters to carry on their example of public service and passion for fair and impartial justice. I will always be forever thankful for the opportunity to serve as District Attorney but at this time there is a greater need for a strong, stable and enduring presence on the bench."
Taking office in 2020, District Attorney Gardner has made family safety a top priority. Gardner led the fight against gang violence and drug activity, teaming up with the FBI, PA State Police, and the NEU to dismantle the "400 Gang" and has continued to assist law enforcement with the identification and prosecution of other local non-traditional gangs.
He also took a hardline stance against sex crimes and sex trafficking, especially sex crimes committed upon our children. During his tenure as District Attorney, Gardner's Office has secured the lengthiest sentences ever imposed upon countless sex offenders in this County. Also, to combat violent crimes and sex crimes, Gardner created several new programs that are overseen by County Detectives including countywide Drone Emergency Response and Digital Forensics Unit Programs.
Throughout the COVID-19 pandemic, Gardner supported local job creators by publicly stating that he would not prosecute small businesses who chose to safely remain open. Amid conflicting and contradicting guidance by public health officials, he defended our freedoms by empowering parents to decide what was right for their children, refusing to take legal action against students or teachers who chose not to wear masks in schools.
Finally, Gardner has worked closely with local Law Enforcement not only to promote public safety, but also to help build trust within the community. Gardner used drug forfeiture monies to pay for body cameras for County Detectives, organized several trainings on the topic of de-escalation techniques and provided thousands of dollars to the State Police and municipal police departments to further the training of officers.
He has significantly bolstered our County detective force and, by working hand in hand with the Lycoming County Narcotic Enforcement Unit, opened over 800 criminal investigations, seized hundreds of thousands of dollars in drug money, narcotics and illegal weapons.
Prior to serving as District Attorney, Gardner operated his own diverse private practice that included general civil litigation, divorce, custody, child support, protection from abuse matters, unemployment compensation, discrimination, wrongful termination, Children and Youth including the termination of parental rights, products liability, personal injury, landlord tenant issues, workers' compensation, real estate disputes, as well as criminal defense. Gardner's private practice carried him to countless counties throughout the Commonwealth at both the common pleas and appellate court levels as well as the Federal Middle District Court.
Prior to its sale, Gardner was the co-owner/manager of a small business named TriGar Tire & Auto Service Center, L.L.C. that was located on the Golden Strip in Loyalsock Township.
Gardner has been active in the community for years and currently serves as Treasurer of the Lycoming Law Association and as Secretary on the Lycoming County Prison Board. He enjoys hiking, running, biking, and fishing on the Loyalsock Creek.
He is a lifelong Lycoming County resident, a proud member of the Dunwoody Big Bear Fish and Game Club, and resides in the Montoursville Area School District with his wife, children, and three Labrador Retrievers.