Law Day Celebrated in Lycoming County
Posted on May 3rd, 2019 at 10:21 PM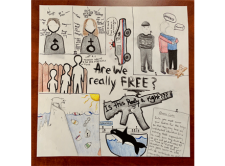 Law Day 2019 was celebrated at the Lycoming County Court House on Friday, May 3. Winners of the 2019 Law Day Art & Essay contest were recognized. Judges Butts, Lovecchio and Brown presided over the event.
Administrators and teachers from Loyalsock, Williamsport and Montoursville School Districts led recitation of the Pledge of Allegiance. County Commissioners R. Jack McKernan and Tony R. Mussare then read the Lay Day Proclamation.
LLA President Christian Frey commented about the 150th anniversary of the Association and discussed the upcomig theater production of "To Kill a Mockingbird." Past Association Presidents were recognized.
The Art & Essay contest winners then read their entries or displayed their art. Poetry and musical pieces were accepted for the contest and several entries fell inthis this category. All the winning entries are found here.
The winners of the contest are as follows.
Essays
Elementary Division
Grades K-5 - Discuss why free speech and free press are important. How these freedoms affect your daily life?
Lindsay Garber, Grade 5 – McCall
Secondary Division
Grades 6-12 - Thomas Jefferson wrote "…were it up to me to decide whether we had a government without newspapers or newspapers without a government, I should not hesitate a moment to prefer the latter." Explain why you agree or disagree.
Ross Mahler, Grade 7 – Williamsport
Carley Borgess, Grade 7 – Williamsport
Luke O'Brien, Grade 8 – Loyalsock
Kate Richards, Grade 7 – Loyalsock
Artwork
Free Speech, Free Press, Free Society.
Elementary Division
Alice Ravert, Grade 5 – McCall
Secondary Division
Zachary Wagner-Pizza, Grade 7 – Loyalsock
Muireann Tran, Grade 7 – Williamsport
Brynlie French, Grade 7 – Loyalsock
Maria Blas, Grade 7 – Loyalsock
Additional Photos