In Memoriam: Clinton Wilcox Smith (1933 - 2016)
Posted on December 30th, 2016 at 12:00 AM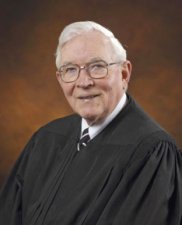 Clinton Wilcox Smith, a 57 year member of the Lycoming Law Association, and 23 year member of the Lycoming County Court of Common Pleas, died December 30, 2016.
Lycolaw,org articles
Read the memorial resolutions presented at the memorial service held on April 7, 2017:
IN THE COURT OF COMMON PLEAS OF LYCOMING COUNTY, PENNSYLVANIA
IN RE: APPOINTMENT OF A COMMITTEE TO DRAFT RESOLUTIONS IN THE DEATH OF CLINTON W. SMITH
NO. 17-0081
RESOLUTIONS OF COMMITTEE
TO THE HONORABLE JUDGES OF SAID COURT:
On the 24th day of January, 2017, the Honorable Nancy L. Butts, President Judge of the 29th Judicial District of the Commonwealth of Pennsylvania, appointed the undersigned Committee to draft Resolutions memorializing the life of Judge Clinton W. Smith, and to submit the same to the Court on Friday, April 7, 2017 at 3:30 p.m.
The undersigned Committee submits the following Resolutions for the Court's consideration:
Clinton Wilcox Smith died at his home in Williamsport, Pennsylvania on December 30, 2016 after more than a 20 year battle with cancer. He was 83 at the time of his death.
Judge Smith was born on December 15, 1933 to Edward Bryan and Dollie Wilcox Smith. He was born and raised in Lycoming County, and spent his entire life residing in Lycoming County.
Judge Smith was survived by his wife of 20 years, Mary (Keliher) Gibbs Smith; his son Christopher P. Smith of Brooklyn New York; his brother, Dr. Clifford O. Smith who, with his wife Janice, resides in Wilmington, Delaware; a stepson, Matthew T. Gibbs, II of Monterey California and stepdaughter, Margaret Gibbs Richardson of Massachusetts; and by two granddaughters, Maura Smith and Katrin Smith and four step-grandchildren, Kiley and Matthew Gibbs, and Eleanor and Zachary Richardson.
Judge Smith's parents were originally from Tioga County. They moved to the Williamsport Area in 1928. The Judge's father was employed by Swift & Company.
Judge Smith attended the South Williamsport Area Schools and graduated from the South Williamsport Junior-Senior High School with high academic honors in 1951, ranking first in his class. Upon graduation, he received the American Legion School award for outstanding academic and service achievement.
During his junior and senior high school years, Judge Smith developed a close relationship with Lycoming County Attorney Don L. Larrabee. Larabee influenced Judge Smith's choice of profession more than any other individual. Larrabee served as his Scoutmaster during high school, employer (cutting lawns, gardening) during the summers, instructor at Lycoming College, preceptor during and after law school, law associate upon admission to the bar and at all times a friend, advisor and mentor.
Judge Smith attended Lycoming College. He graduated summa cum laude in 1955. In college, he was an active member of Sigma Phi Fraternity.
During his school years, Judge Smith was industrious, earning most of the funds necessary for his college and law school tuition by working approximately 30 hours a week in the circulation department of the Williamsport Sun-Gazette newspaper. In addition, for a little over two years of this time, he had a morning Gazette and Bulletin paper route which included the Avco plant. He would arise at 5:00 a.m., deliver the newspapers and sell an average of 500 papers a day at Avco. The profit on each paper was two cents and the income generated from this occupation was significant for those days, and was the source of funds from which most of his law school expenses were paid.
He graduated from Dickenson Law School in 1958. After taking and passing the bar examination in July of that year, he served a six month clerkship with his preceptor Don L. Larrabee. In September of 1958 he joined the Pennsylvania National Guard and started a six month tour of active duty in November 1958. Upon completing his active service, he served the balance of his six years active reserve obligation with the Guard and the United States Army Reserve.
At the end of his six month clerkship, and upon motion of Don L. Larrabee, he was admitted to the Bar of the several courts of Lycoming County on June 11, 1959. He immediately became associated with Larrabee and practiced law with him until September 1966 when he, Nathan W. Stuart, Bertram S. Murphy, and Henry Hager, III., formed a partnership under the name of Stuart, Murphy, Hager and Smith, succeeding the firm of Wood and Stuart after Judge Wood was elevated to the bench. In later years, Malcom S. Mussina, Gary T. Harris, John Humphrey and Clifford Rieders joined this firm.
Judge Smith had a successful general practice with emphasis in the areas of commercial law, family law, real estate, estates and municipal law. He represented several municipalities. He represented his home borough of Duboistown for over 15 years. His passionate attention to his clients and the details of their legal issues was noted among his peers.
He served as an Assistant District Attorney under Henry G. Hager, III, from 1964 through 1968.
On July 10, 1980, the Pennsylvania legislature established a third judgeship in Lycoming County. A merit selection committee was appointed by Governor Dick Thornburgh. There were eight applicants for the position; three names were submitted to the Governor by the committee; and, in December 1980, Clinton W. Smith was nominated for the judicial position and his name sent to the Senate for confirmation. Judge Smith was confirmed in May of 1981.
The newly established judicial position was open for election in 1981 and a second position opened as President Judge Charles Greevy, Jr., chose not to seek a new term. In the primary election, Judge Smith was nominated by both parties. Likewise, Judge Robert J. Wollet received the nominations of both parties, negating the necessity for a fall election campaign.
Judge Smith was sworn in on May 27, 1981. He began his first 10 year term in January of 1982. On November 5, 1991 he was retained by the voters for a second 10 year term and on November 6, 2001 he was retained by the voters for a third term.
Clinton W. Smith became President Judge in January 1995 upon retirement of Judge Thomas Raup. He served as President Judge until December 31, 2003.
During Judge Smith's service on the Lycoming County bench, the number of commissioned judges increased from three to five. He was responsible for initiating a committee that recommended a fifth judicial position to the legislature. Judge Smith was also instrumental in formulating and implementing the Family Court Division, development and implementation of the Drug Court and initiation of the one day–one trial jury selection system for jurors and day certain criminal trial scheduling.
Judge Smith recognized the importance of the Bench Bar Committee in maintaining the good relationship between the Court and the Lycoming County bar. He created subsections of the Committee, that focused on the various practice areas of attorneys in the Court of Common Pleas.
After retiring from the active bench, Judge Smith served as a Senior Judge until 2011. He served as Judge in many counties in Northcentral Pennsylvania but was particularly well known in Luzerne County. He served extensive stints in Wilkes-Barre after the Luzerne County Bench was decimated by scandal and retirement. He was highly respected by Luzerne County practitioners for his ability to step into the difficult situations faced by that county's court.
Judge Smith was very active in civil, social and charitable activities. He served as a Trustee and Vice President of The Lycoming Foundation, on the Board of Trustees of Lycoming College, as a member of the Williamsport – Lycoming Chamber of Commerce Board of Directors, as a member of the Board of Directors of the United Methodist Home for Children in Mechanicsburg, as a member of the Lycoming County DUI Advisory Council, and as a member of the Board of Directors for the Lycoming County Association for the Blind. He served as a director of the former Friends of the Court program and Lycoming County Child Daycare Center. He was past president of the Ross Club and was very active in the Ross Club until it closed. Masonic affiliations included Lodge 106 F&AM and the Williamsport Consistory.
Judge Smith was a former member of the Loyalsock Little League and former coach of a little league baseball team, with his son Chris, as a member. He was a longtime member of the Pine Street United Methodist Church. He served as a Sunday School teacher for the high school class for 10 years and was a member of the Building Committee after the church was destroyed in 1977. He served as Chairman of the Administrative Board, Chairman of the Counsel of Ministries, Chairman of the Pastor/Parish Relations Committee and Chairman of the Board of Trustees.
Judge Smith was knowledgeable about the Bible. Indeed, he had made a study of the trial of Jesus, and had spoken on the subject of whether those responsible for conducting the trial followed the law applicable to the proceeding.
Judge Smith was an avid baseball and football fan. He attended most of the home Penn State football games. He followed the Phillies baseball team and attended many games, including World Series games.
When pitcher Mike Mussina signed with the Yankees, Judge Smith became a Yankees fan and began attending Yankees games, out of loyalty to his former law partner, Mike Mussina.
During his judicial service, Judge Smith employed a number of law clerks. It is significant to note that, with the exception of Thomas Peeler who is deceased, all of his former law clerks reside and work in Lycoming County. These clerks include John Pietrovito, Gary Weber, Mary Schemery, Vanessa Danielle, President Judge Nancy Butts, David Wilk, Karen DiSalvo, Tammy Taylor and Dana Jacques.
Judge Smith was a mentor to the younger partners in his law firm and to the law clerks who served him. He enjoyed working with the younger lawyers and was freely willing to give them serious responsibility.
He was a lover of nature and was an avid hunter. He was proud to say that he always got his deer.
Judge Smith was a devoted family man. While his son was growing up, he and his wife would travel to the western United States for summer vacations where they would ride and hike at a dude ranch.
Judge Smith was originally married to Mary Coan Johnson Smith on October 21, 1961. Christopher Patrick Smith was born on November 11, 1968.
Judge Smith married Mary Gibbs Smith on May 25, 1996. They enjoyed a loving and close relationship. During his later years, the Smiths divided their time between their home on Four Mile Drive in Loyalsock Township and their home in Eagles Mere.
NOW THEREFORE, BE IT RESOLVED that we, the undersigned, joined in by the Lycoming County Bar, do hereby recognize and mourn the passing of the Honorable Clinton W. Smith, and remember him as an exemplary member of the judiciary, a man of high professional confidence, a friend, a mentor and a servant of the community, and honor his contributions to this community; and be it RESOLVED FURTHER, that these resolutions and statements be spread at length upon the minutes of the court with copies to the Judge's family and descendants, and be published in the Lycoming Reporter; and, be it RESOLVED FINALLY that this court and the Lycoming County Bar extend to Judge Clinton W. Smith's surviving wife, child, grandchildren and step-grandchildren, as well as his brother and other family members, our deep and heartfelt expression of sympathy and respect for Clinton W. Smith.
Respectfully submitted,
Gary L Weber, Chairman
Judge Kenneth D. Brown
Joseph L. Rider
Gary Harris
Clifford A. Rieders
ORDER OF COURT
AND NOW, this 7th day of April, 2017, in consideration of the resolutions presented by the Committee appointed to draft Resolutions in the death of the Honorable Clinton W. Smith, said Resolutions are adopted and it is hereby ORDERED AND DECREED that the Resolutions herewith submitted and attached be adopted as an official expression of the Lycoming County Bar and this Court; and that the same be spread upon the records of the Court; and that copies of this Resolution be delivered to Judge Smith's wife, son and stepchildren; and it is further ORDERED and DIRECTED that said Resolutions be entered at large and upon the record of the Court, and that they be printed in the Lycoming Reporter.
BY THE COURT:
Nancy L. Butts, President Judge
Dudley N. Anderson, Judge
Richard A. Gray, Judge
Joy Reynolds McCoy, Judge
Marc F. Lovecchio, Judge