2007 Annual Meeting Report
Posted on January 14th, 2007 at 12:00 AM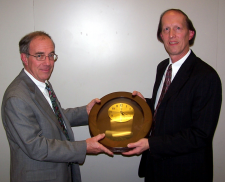 The annual meeting of the Lycoming Law Association took place at the Lycoming County Courthouse on Monday, January 8, 2007. The meeting was opened by outgoing president Craig Harris. Minutes of the 2006 meeting were approved.
The financial reports were discussed by Tammy Taylor, outgoing treasurer and Bill Knecht, Lycoming Reporter Editor. The Association's finances are in fine shape, and the Reporter showed a substantial profit for 2006. The financial reports are linked below
President Harris reported on the progress of Association in 2006. His comprehensive report is posted. He mentioned the new office facilities, upgraded equipment, the Law Day Superior Court session, a new printed directory, and CLE opportunities for members as significant achievements of his administration. He advised the membership of new initiatives including the establishment of a long range financial planning and investment committee to protect the Associations assets and the establishment of a library committee to work with the James V. Brown Library. He encouraged the continued vigor of the Young Lawyers and expressed appreciation to the Association's Executive Director, Jessica Engel, for her good work.
The report of the Nominating Committee was read by William Carlucci, a member of the Committee. The following nominations were made: President - John Patrick Pietrovito; President Elect - Tammy L. Taylor; Secretary - Richard Allen Gahr; Treasurer - Joy Reynolds McCoy; Executive Committee - Jonathan Edward Butterfield; Executive Committee - John R. Zurich; Executive Committee - Charles G. Brace; Executive Committee - Michael Howard Collins; Immediate Past President - L. Craig Harris. The nominees were unanimously elected.
Reports of the committees were made in writing and by Chairs of the committees in attendance. Reports are posted.
Two issues of new business were discussed by the members. The first was to consider the request of the Bradford County Bar Association to pledge support to the reward fund established for information leading to the arrest and conviction of the murderer of Sayre attorney David Keeffe and his wife. A motion passed to allocate $5000 to the be spent at the discretion of the Executive Committee for the reward fund and as a memorial contribution.
The second issue related to the ethical issues of out-of-town attorneys advertising in the local telephone books. Some of the advertisements fail to designate the main location of the practice. A motion to file an ethics complaint was passed by the members.
The meeting of the Lycoming Law Association Foundation followed. The meeting was conducted by President William Nichols. Minutes of the 2006 meeting were approved. Member Joseph Rider was elected to a four year term on the Foundation.
---