2015 LLA Annual Meeting
Posted on January 12th, 2015 at 5:53 PM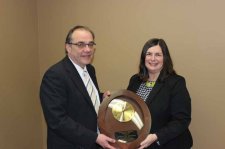 Tammy Weber elected president
The 2015 Annual Meeting of the Lycoming Law Association took place on January 12, for the first time in the new LLA office and conference facility. Tom Waffenschmidt concluded his term as president and turned over the President's clock to Tammy Weber for 2015.
The members received and heard committee and officer reports (see below).
Other business completed by the membership was the election of the officers of the Association, including President Weber. Tom Waffenschmidt will now serve in the position of Past-President. Robert Cronin was named President Elect. Ryan M. Tira was named Treasurer and Jennifer L Heverly, Secretary; Christian Frey and Angela Campana Lovecchio will continue to serve as Executive Committee members at large. Newly selected to the Executive Committee were Don Martino and Corey Mowrey.
Bob Cronin's selection as President Elect for the second year is a departure from prior tradition. The Nominating Committee recommended this deviation from the normal rule of succession because Cronin is undertaking basic training for a military commitment and could not perform his presidential responsibilities in 2015. The membership approved the renomination of Cronin with a unanimous vote.
The members also passed a budget and approved the financial and committee reports submitted by committee chairs.
The By-laws of the Association were amended to completely replace "Article I. Membership" with a revised article that defines three classifications of members: active, senior and associate. Most members are "active." "Senior" membership was established a number of years ago, but the criteria was not at that time defined in the By-Laws. The definition of a "senior" member will now track that of the Pennsylvania Bar Association. The final classification is entirely new. "Associate" members are those who are members of the Pennsylvania Bar, but who do not maintain an office or residence in Lycoming County. "Associate" members are non-voting members, but are entitled all other benefits of membership.
Following the LLA meeting, the meeting of the LLA Foundation took place. Joe Rider was elected to another 4 years as trustee of the Foundation. The annual report of the Foundation and its financial reports were also received and approved.