Five Attorneys Admitted to Practice in Lycoming County
Posted on December 3rd, 2020 at 3:56 PM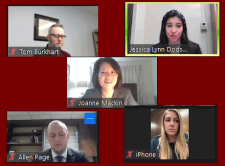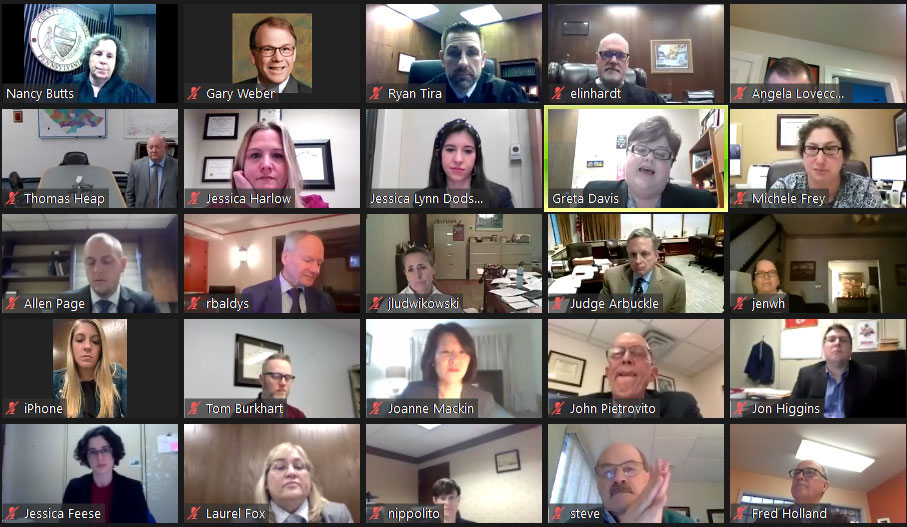 Download the Program
The traditional Lycoming County attorney admission of attorneys to the Lycoming County Bar looked a lot different this year. No surprise - in a year dominated by news of COVID-19 and its related restrictions. The admission ceremony took place using the ZOOM application, and all of the admittees, moving attorneys, judges and observers appeared in boxes on a computer screen.
The county court, on December 3, 2020 admitted five attorneys to practice before the "Several Courts of the Court of Common Pleas of Lycoming County." Those attorneys were Thomas Aaron Burkhart, Jessica Lynn Dodson, Joanne P. Mackin, Allen P. Page, and Alexandra Sholley.
The first attorney introduced to the court and the bar was Thomas Aaron Burkhart, who is presently working with the Murphy, Butterfield and Holland law firm. His admission was moved by Fred Holland.
Greta Davis moved the admission of Jessica Lynn Dodson. Dodson is employed as the IV-D attorney in Lycoming County's Domestic Relations department.
Joanne P. Mackin is currently employed by North Penn Legal Services. Jennifer Heverly moved her admission.
Alexandra Sholley's admission was moved by Laurel Fox. She is serving as Judge Tira's law clerk.
Allen P. Page is employed by the McNerny Page Law Firm. His admission was moved by Nicole Ippolito.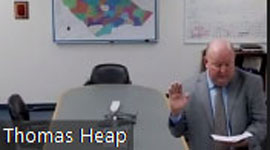 After all of the attorneys were introduced, and their admissions moved, Prothonotary Thomas Heap then administered the oath. Welcoming remarks by Judges Tira, Linhardt, Lovecchio and Butts followed.
Law Association President Angela Lovecchio welcomed the new members to the bar. Jessica Harlow invited the new members to participate in the Young Lawyers Division and Corey Mowrey encouraged the new attorneys to join the Inns of Court. John Pietrovito encouraged pro bono work.
The Lycoming Law Association welcomes our new members and wishes them well in their new positions.