Middle District Court Loses Two Senior Judges
Posted on July 8th, 2020 at 8:01 PM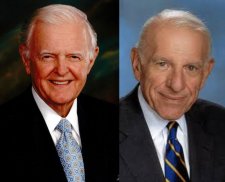 The United States District Court of the Middle District of Pennsylvania has lost two of its long-time members. Senior Judge A. Richard Caputo, who died on March 11, 2020 and Judge James M. Munley, who died March 23, 2020. The Senior Judge corps of the Middle District cour thas been devistated by six deaths in the past two years. In addition to Judges Munley and Caputo, long time Judges Kosik, Nealon, Conaboy and Caldwell have been lost since August of 2018.
Judge Caputo was a 1960 graduate of Brown University, received his law degree from the University of Pennsylvania in 1963. He served in the Judge Advocate General's Department of the U.S. Air Force from 1964 to 1967, where he served as prosecutor and defense counsel in general and special courts martial and as counsel in administrative hearings. He was honorably discharged with the rank of captain in 1973.
After a stint as an assistant public defender in 1968, Caputo entered law practice at Shea and Shea in Wilkes-Barre, where he distinguished himself as a trial lawyer concentrating in commercial litigation, multi-employer pension plan litigation and construction litigation.
He remained in private practice until 1997, when President Bill Clinton nominated him to assume a seat on the federal bench. Caputo, of Shavertown, was sworn in to the bench in December 1997.
Judge Munley graduated from Archbald High School, the University of Scranton and Temple Law School. Before law school he served in the United States Army for two years stationed in Schweinfurt, Germany, with the illustrious 30th Infantry, Third Division, the Rock of the Marne, one of the most decorated and successful of all American military units.
After law school he served as law clerk to Chief Justice Michael J. Eagen of the Pennsylvania Supreme Court. And before becoming a county judge, he joined his brother, Robert, in the practice of law in the firm of Munley and Munley.
Judge Munley was elected in 1977 to the Lackawanna County Court of Common Pleas and was retained as judge in 1987 and 1997. He served as a county judge until the U.S. Senate confirmed him as a federal judge in 1998 following his nomination to the federal bench by President William J. Clinton.