LLA Supports Canine Companions to Honor Attorney Public Service
Posted on August 6th, 2022 at 3:12 PM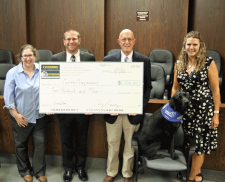 Every year the Lycoming Law Association recognizes its members and firms for pro bono service to the community. The recognition ceremony occurred during the June 2022 annual banquet for service in 2021.
Rather than provide individual gifts to the recognized attorneys, the Association extends a $500 grant to a worthy community organization. This year, the grant was extended to Canine Companions, an organization that trains service dogs.
The check was presented on August 5, by Pro Bono Committee Chair John Pietrovito, LLA President Corey Mowrey and LLA Executive Director Michele Frey to Ludo and Jerri Rook, dog handler.