Pro Bono Award Funds Given to the Vineyard
Posted on April 11th, 2018 at 12:09 PM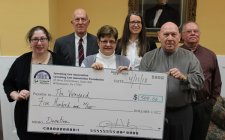 At the 2018 LLA Annual Banquet, the Lycoming Law Association recognized a number of Lycoming County attorneys and firms for their pro bono service to needy Lycoming County clients. In the past, the LLA would purchase small mementos to award to the attorneys who were winners of the pro bono award. Recently, the Association has been forgoing the material award to the attorneys in favor of a monetary award to a local charity, in honor of the service provided by pro bono attorneys.
This year, the Association has chosen The Vineyard Community Activity Center, of Muncy, to receive the $500 annual award. "The Vineyard Activity Center opened its doors to youth on November 21, 1997 as a place where young people can channel their energies into positive and meaningful activities in an atmosphere where individuals are affirmed for who they are and hope to be; and where adult volunteers model the Christian life and become mentors to the youth." The organization provides Friday night and after-school activities for youth.
On April 11, LLA President Jen Heverly, Legal Services Committee Chair John Pietrovito and Executive Director Michele Frey presented the funds to Pastor James Savage and Cindy and George Collister.