In Memoriam: William E. Nichols, Sr. (1929-2023)
Posted on June 5th, 2023 at 8:03 AM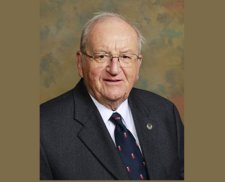 William E. Nichols, Sr., a member of the Lycoming Law Association since 1957, died on Sunday, June 4, 2023. He was president of the Lycoming Law Association in 1988.
Obituary:
William Ezra "Bill" Nichols Sr., 94, a proud lifelong resident of Williamsport, died peacefully at home, surrounded by his loving family on June 4, 2023.
He was born in Williamsport on March 15, 1929, a son to the late William and Beulah (Walker) Nichols.
Bill attended Williamsport High School, graduating in 1947, before attending Pennsylvania State University (class of 1951) and Dickinson School of Law (class of 1957). While attending Pennsylvania State University, Bill met the woman who would become his wife, Patricia A. (Thompson) Nichols, and they married on Dec. 26, 1951, at the Trinity Episcopal Church. They spent 59 wonderful years together, before her passing on March 19, 2010. William attended Covenant Central in his early years, later attending Trinity Episcopal Church throughout adulthood.
Following his days at the Pennsylvania State College, William served in the Navy for 3 years during the Korean War as an Anti-Submarine Warfare Officer on the Destroyer USS Gearing DD710. Upon his return from the Navy, William attended the Dickinson School of Law, and began practicing law in 1957. He practiced with the former Furst, McCormick, Muir, Lynn and Reeder, now the McCormick Law Firm, where he specialized in wills, estates, taxes, and corporate organization and planning. Bill worked with the McCormick Law Firm for 51 years, until his retirement in 2008, which allowed him to focus on caring for his late wife, Patricia. He was also known for being a past board member at Rowland Land LLC.
Bill was extremely active throughout the community, and was well known for his positive outlook, often stating "it's just another day to excel." He was a member of many local clubs, namely the Dunwoody Fish and Game Club, where he was the past president from 1986 to 1987, the Mason Ivy Lodge No. 106, the Ross Club, the Williamsport Country Club, and the Williamsport Tennis Club.
Throughout his life. Bill tackled many projects, founded and supported countless local organizations, and always worked to better his local community, which he cared for deeply.
Bill began his community involvement in 1964, when he was named the young man of the year by the Lycoming County Jaycees, where he served as past president and on the State Council. After receiving that award, Bill was the Cancer Crusade Chairman on the Lycoming County Lung and Respiratory Disease Board for over 20 years, and started Meals on Wheels during his time on the Visiting Nurses Board. He also received the IOLTA award in 1993.
Bill was the founding father of STEP, Inc., now a bi-county organization that employs over 350 people, and provides services for early learning, housing support, workforce development and employment, community collaboration, and independent living. Due to his contributions toward founding and supporting STEP Inc., Bill received the Outstanding Contribution Award in 2011.
Bill took great pride in the work he did at the James V. Brown Library over the 50 years he served on the board, serving as past president from 1973 to 1976 and 2006 to 2009, and providing support for numerous operational and physical improvements over the years. In 2002, he received the Carile Cone Brown Distinguished Service Award.
He also served as president of the Williamsport City Council in 1972, during transition to current Mayor/Council form of Government. Serving on the commission to change the form of government in the city, Bill worked towards developing a more unified and efficient administrative code for the city.
In addition to founding STEP Inc., Bill also founded the Williamsport Symphony after negotiating a deal with the West Branch Symphony in Lewisburg, bringing more music and arts to the Williamsport area. Throughout his life, Bill had a deep love for singing, serving as the past Vestry member and choir member for over 50 years of the Trinity Episcopal Church, and for some time with the Williamsport Civic Chorus. He was especially proud to sing in the church choir with his entire family for many years.
Bill served as chairman of the Water Authority for 38 years, and was on the Sewer Authority Board as well, which lead to the Water Filtration Plant being named after him in 2017. He was on the board for the former Williamsport Hospital, now the UPMC Williamsport, for over 8 years, and served as the past president of the Lycoming Law Association, where he received the Community Service Award in 2012, which has been named in his honor since. While there, he founded the Lycoming Law Association Charitable Foundation. He also served on the boards of the Lycoming United Way, Lycoming Tuberculosis and Respiratory Disease Association, the American Cancer Society, the Lycoming Housing Authority, as well as serving as the past board member of the Williamsport Rotary Club, where he was named Rotarian of the Year in 2017. He was also past editor of the Lycoming Reporter, and was a Paul Harris Society Member.
Bill served as the past chair of the Williamsport Chamber of Commerce and the Williamsport Lycoming Foundation, now First Community Foundation of PA. In 2002, he received the Community Service Award from the First Community Foundation of PA. He was granted the Lifetime Achievement Award by the Lycoming County Historical Society in 2010, and in 2016, he received the Lycoming County Brotherhood Alliance Award.
Bill and his wife, Patricia, were honored by being added to the mural of prominent community leaders surrounding the parking lot alongside Bullfrog Brewery on Fourth Street, forever painted together overlooking the community they cared for so deeply.
When he was not attending local associations and community meetings, William enjoyed reading historical non-fiction, gardening, playing tennis, and fly-fishing.
Looking back on his many achievements, Bill proudly stated "my greatest happiness is my family," in a 2012 interview about his contributions to the community.
He is survived by his children, William E. Nichols Jr., of Williamsport, Stephen F. (Judy) Nichols, of Lancaster, Andrew W. (Brenda) Nichols, of Williamsport, Bradley G. (Jacki) Nichols, of Tucson, Ariz., Sharon L. Nichols, of San Antonio, Texas, and Christopher B. (Doug Sabo) Nichols, of Orinda, Calif.; grandchildren, Jonathan (Anda) Nichols, of Williamsport, Elizabeth (Joseph) Ahern, of Chicago, Ill., Rebecca and Katherine Nichols, both of Lancaster, Benjamin, Elliot, and Zachary Nichols, all of Tucson, Ariz., and Chloe and Emma Sabo-Nichols, both of Orinda, Calif; great-grandchildren, Ava and Jack Nichols, both of Williamsport.
In addition to his parents and wife, Patricia Ann., William was preceded in death by his brother, Edgar Walker Nichols.
A Funeral Service will be held at 11 a.m. on Monday, June 12 2023, at Episcopal Trinity Church, 844 W 4th St, Williamsport, PA 17701, with his pastor, Rev. Kenneth Wagner-Pizza officiating.
The family will receive friends and family from 6 to 8 p.m. on Sunday, June 11, 2023, at the Crouse Funeral Home, 133 E. Third St., Williamsport PA 17701.
The family would like to express their heartfelt thanks to all of Bill's wonderful, dedicated and devoted caretakers these past seven years (Peg, Bonnie, CJ, Heather, Tess, Rita, Cyrus, Theresa, Kristen, Kim, Cindy, Cathy, Linda, Sherry).
The Crouse Funeral Home has been entrusted with handling final arrangements.
To share a memory or sign an online register book, please visit www.crousefuneralhome.com.
In lieu of flowers, the family suggests memorial donations be made in Bill's memory to the James V. Brown Library, 19 E. 4th St., Williamsport PA 17701, (www.jvbrown.edu), or to a charity of your choice.
Lycolaw® articles on Bill Nichols:
Tribute from the Williamsport Sun-Gazette, June 13, 2023
William Ezra 'Bill' Nichols Sr.: Williamsport loses active community serviceman
MARK MARONEY
Reporter
mmaroney@sungazette.com
"Nichols was dedicated to the Williamsport community," said his friend and colleague Michael Miller, executive director of the Williamsport Municipal Water and Sanitary Authority.
He and his good friend, Tuck Frazier, teamed up for nearly four decades to lead the Water and Sanitary Authorities for the benefit of the citizens of Williamsport and surrounding regions.
Nichols was the chairman of the Water Authority and served on the Sanitary Authority board, and Frazier was the chairman of the Sanitary Authority and served on the Water Authority board.
"They shared a common vision for the greater good," Miller said.
Through countless hours of work on behalf of the authorities, Nichols guided the Water Authority through a long period of expansion and improvements that modernized the Water and Sanitary Authorities into reliable and fiscally responsible
infrastructure service providers.
As a tribute to Nichols' commitment to the Authorities and the communities they serve, the water filtration plant was named in Nichols' honor in 2017.
His influence will continue to have a lasting impact on the Water and Sanitary Authorities.
Nichols, an attorney, retired from McCormick Law Firm. Nichols was a member of the Lycoming Law Association since 1957.
He was president of the Lycoming Law Association in 1988.
Nichols was honored for his long record of community service and named grand marshal of Williamsport's 2010 Christmas parade.
Nichols led the parade down a route that went from Center and West Third streets, headed east, then north on Pine Street, then west on West Fourth Street to Center Street.
Although the night was cold, the parade was well attended by local families.
The community has lost such a tremendous asset, said Dana Brigandi of James V. Brown Library.
Nichols was a member of the library Board of Trustees from 1962 until November 2012, when he became a trustee emeritus.
He served as president of the Board of Trustees from 1973 to 1976 and again from 2006 to 2009.
As a trustee, he took a leadership role in raising funds for the Children's Wing Campaign in the late 2000s and the more recent Bookmobile campaign in 2019.
"He was a loyal supporter of the library and a fierce champion of ensuring the library was a gem in this community," Brigandi said.
"Nichols was deeply devoted to his community," said James D. Plankenhorn, president and CEO of STEP Inc.
As the founder of STEP Inc. in 1966, Nichols embodied community action and its mission to positively impact people's lives through social, independence and self-sufficiency services and programs.
Because of his vision, Nichols was the catalyst for change in Lycoming and Clinton counties, and his legacy will certainly live on as we do our best carry on with his vision and mission for a better community, Plankenhorn said.
"If you ever met Mr. Nichols, you'd know he was a wonderful man, and thought the world of STEP, its mission, its programs and the fantastic staff and volunteers who serve," Plankenhorn said.
"I've enjoyed countless occasions over the last many years spending time with him, learned so much from him, and he was always such a pleasure to be with. We all will miss him greatly," he said.
Nichols served as the chairman of the Williamsport Foundation, now the First Community Foundation Partnership of Pennsylvania (FCFP), from 1989 to 1991.
"Undoubtedly, it was one of the most critical and monumental times in the Foundation's history," said Jennifer D. Wilson, FCFP president and CEO.
Under his leadership, the Foundation transitioned into an independent community foundation which laid the groundwork for what would become a regional organization that currently engages with more than 7,700 donors and grants more than $6 million annually throughout the nonprofit community.
"His service to Williamsport has been extraordinary, but his impact on FCFP and the people it serves expands well beyond Lycoming County," Wilson said.
Nichols was recently recognized and was given a touching tribute by members of the Williamsport City Council.
Council President Adam Yoder said Nichols was the first Council president under the current form of government the Council today is acting under.
"Going through that process, I am pretty sure it was very arduous," Yoder said.
"He did a lot of work that I think really set up structure as to how we work," Yoder said. "A lot of intelligent work."
Former Council President Randy Allison noted Nichols' founding of STEP Incorporated and is founding of the Williamsport Symphony.
"These are close to my heart because they touch people," Allison said.
In one organization it serves the physical and other needs and for the symphony for those who enjoy the arts and fine music.
What Nichols founded "touched the whole spectrum of humanity," Allison said.
The congregation of Trinity Episcopal Church, where Nichols was active, will miss him.
"While Bill knew we are all sheep of our Shepherd and sinners who need redeeming, he served his parish and community in so many ways," said the Rev. Cn. Kenneth E. Wagner-Pizza, Rector & Provost, Trinity Pro-Cathedral.
Nichols was a model of a great stewardship of sharing his time, talent and treasure throughout his life.
Through his love of music, he sang in the choir decade after decade including annually being one of the three wise men for Epiphany.
"When I first came, he was taking care of his wife, Pat, after she had taken care of him and the family so that he could be doing so much out in the community," Wagner-Pizza said.
"When I would visit him, he would always ask about Trinity, and we would talk about the community, his family and what hope he had for the future even with all the challenges that we are presented with in any age," he said.
"May his soul and the souls of all the departed, through the mercy of God, rest in peace. Amen," Wagner-Pizza said.